Hammer tunnelling has proven to be economic mainly in the Mediterranean countries and Asia. Hammer tunnelling is successful compared to drilling and blasting when the fractured rock structure makes controlled blasting hard to achieve. Additionally, hammer tunnelling involves only a few work phases and there is less need for the skilled workforce than in drilling and blasting.
Compared to a TBM (Tunnel Boring Machine), hammer tunnelling investment costs are much lower and tunnel profile is not restricted to a particular shape. Hammer tunnelling economics is governed by many factors including rock type, tunnel area, tunnel length, tunnel location, schedules, and availability of equipment and skilled workforce. Usually, a suitable hammer would be in the weight class of over 2000 kg; preferably over 3500 kg. However, even significantly smaller hammers are used in special cases. The soft-rock chisel tool is usually recommended for tunnelling.
In a typical hammer tunnelling case, the main advantages over other methods are lower investment costs, lower workforce costs, safer job-site conditions (because explosives are not used) and little or no over-excavation with costly refills.
Rock types
For hammer tunnelling to be economic, a reasonable productivity rate is required. This can be achieved in different rock types. Rock to be excavated has relatively incoherent structure.
Distance between cracks, joints and other discontinuities should not be more than 30 – 50cm. The rock to be excavated is compact but soft enough to allow a reasonable productivity rate by tool penetration (best case: an excavator bucket is barely insufficient).
Rock strength, abrasion level and general toughness also influence productivity to some extent. Rock is seldom homogenous in long tunnels. If the extremely compact rock is encountered, auxiliary blasting is recommended. It is often sufficient to fracture the rock, enabling further excavation with a hammer. Auxiliary blasting is applied at the lower middle part of the tunnel where excavation normally would start. This way hammer excavation is best enhanced and the negative effects of blasting (such as overbreak) are minimized.
Ground vibrations
Considerably less ground vibration is associated with hammer excavating than with the drilling and blasting method. The vibration level caused by hammer excavation is 5 – 10% the level of blasting. This can be a decisive factor when excavating rock in the vicinity of structures that require vibration limitations.
Working methods
The working method is dictated by the section area and length of the tunnel.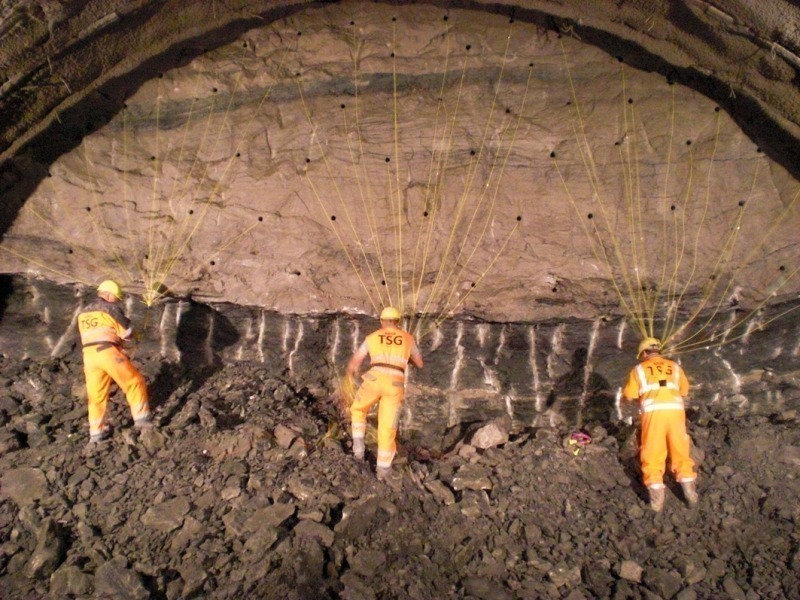 Areas 30 – 70 m2:
Hammer tunnelling is suitable for tunnels with a cross-section greater than 30 m2. With smaller areas, an excavator suitable to carry a 2000 kg hammer will have difficulties fitting or operating properly.
In a small and narrow width (less than 8m) tunnel profile, only one excavator-hammer combination can work at the front of the tunnel. This divides work into 5 phases:
Excavating
Transportation of muck
Scaling
Transportation of scaling muck
Reinforcement and support of tunnel walls
In an 8-hour shift, excavating and transporting muck takes about 2 hours each. Scaling and transportation of scaling much take approximately an hour and the rest of the time are used for reinforcement of the walls.
Area more than 70 m2:
A larger tunnel profile allows hammer excavating and muck transportation to be done simultaneously. This reduces the actual amount of work phases into two:
Excavating (and scaling) + transportation of muck.
Reinforcement and support of tunnel walls.
Broken rock can be removed during excavation of a 70 m2 tunnel face, which can accommodate an excavator equipped with a hydraulic hammer, and a loader and truck.
The excavating and transportation work phases actually complement one another. When a material has been excavated from one side and instantly taken away, the hammer can immediately be transferred to the opposite side. Immediate muck removal also improves visibility to the material to be broken.
Tunnel height more than 7 m:
When tunnel height becomes too high, the reach of the hammer is insufficient for excavation in one stage. Excavation is then done in two stages:
Tunnel excavation with suitable height for hammer and excavator.
Another excavator-hammer combination starts at approx. 100 – 150m behind the initial tunnel front to deepen the existing tunnel with the trenching method (Figure below.)
When a hydraulic hammer is used, the workforce requirement becomes smaller in comparison to traditional drilling and blasting excavation. This is largely because of the drilling and blasting method calls for more highly trained personnel. Drilling and blasting operations also mean regular interruptions and disturbances to the tunnelling process as a whole, while hammer excavating is a continuous process.
Long tunnels
If the tunnel is sufficiently long, it is advantageous to start at both ends and in the middle to cope with tight schedules.
Starting in the middle improves equipment and operator availability. The hammer excavates at one side, while the other side is reinforced. When each working phase is completed, the excavation group and the reinforcement group trade places.
When starting in the middle of the tunnel, hammer and wheel-loader trade places with the stabilization team, as support is erected and concrete spraying completed.
The hammer work cycle
Excavation starts at the centre of the tunnel at a height of 1.0 – 1.5m. A hole with a depth of 1.5 – 2.0m is excavated. Tunnelling then continues from the sides of the hole as close as possible to the final sides of the tunnel. Once this stage is reached, work continues in the same way from the floor up until the roof of the tunnel has been formed.
If the rock is jointed, excavating follows the shear planes in the normal manner from floor to roof, using the rock's natural weak points and planes to maximum the effect (Figures below).
Technical considerations
Tunnel work is among the toughest jobs a hammer can do. During tunnelling, hammer availability is extremely high (60 – 80% of excavator time compared to 30 – 50% in primary breaking). The contact force applied by the excavator to the tool is much higher in a horizontal position than in a vertical position. Due to extreme circumstances, frequent preventative and regular maintenance is essential in effective and productive hammer tunnelling. This is best handled with service contracts.
When uninterrupted production is critical, a system utilizing two hammers and one on stand-by is the perfect solution.
Equipment selection
Choose the biggest possible hammer type
Choose the CITY model for lower noise and dust protection.
Choose the Water Jet version for optimum dust-prevention
and good visibility
Choose Ramlube automatic lubrication for maximum tool
and bushing life
If the tunnel job is extensive (over 1000 m), use extension carriage or front shovel boom to carry the hammer.
In tunnelling, the best productivity is achieved with long chisel tools, as excavating frequently must be done near a wall. One should, however, be aware that bending stress on the chisel is hard to avoid in a tunnel. This makes it hard for an inexperienced operator to avoid tool failure. If tool failure becomes a serious problem, using shorter tools is a solution.
Tamrock Corp. 1999- M. Heiniö (L. K. Vanhatalo)